All links are Dofollow unless the rel="nofollow" tag is included in its attributes. Google indexes Dofollow links and counts them towards ranking results, providing the target website a backlink and some link juice. If the webmaster of a well-renowned website links to you, then hallelujah! The authority of their site is transferred by Google's spiders to yours
Where's the role of Nofollow backlinks?
Nofollow links still have value. As a matter of fact, even if they don't consider PageRank, search crawlers still notice them. A site that lacks Nofollow links, could be a red flag to the crawlers, denoting something fishy or spammy going on. This is due to the fact that most websites gain Nofollow links naturally over time.
Websites can follow them to avoid association with spammy sites, while still linking to information that can be valuable to their readers. There are several other reasons to use them. They can be great for sponsorship purposes. Most high-quality websites use Dofollow links when they are paid to link to other sites, but default to Nofollow links non-sponsored links.
Thus they do not give their link juice away freely. So, you want a part of your website's backlink profile to be Nofollow links so you can obtain backlinks from supreme quality sites and signal to search crawlers that your website is legal and not spamming Dofollow links. This will thus facilitate your SEO purposes. For the best search engine optimization in the Bay Area contact us. CH Web Media is a renowned agency offering the most affordable web-based services.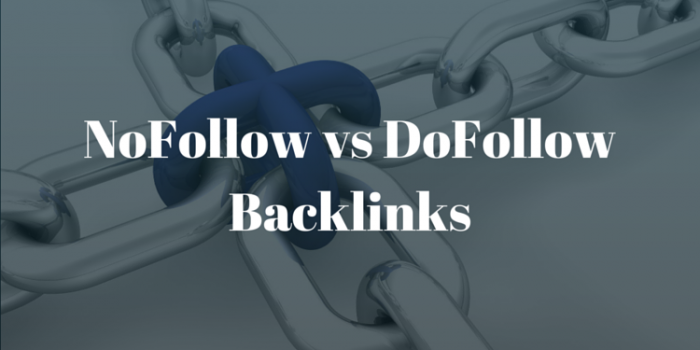 What about Dofollow backlinks?
Every site should be looking to build high-quality Dofollow links. The easiest way to get these links is to search for mentions of your business within the content on other websites that did not link to you. You can reach out to the site owner or author directly and ask if they would add a Dofollow backlink to your site.
If the mention in the content was positive, there is a great chance they will be open to your request. A second but slightly more difficult method is to search the competition's backlinks using different tools. You may come to know that you got better content than your competitor. So, you could always ask the site to switch their Nofollow link to your website instead.
Does this mean you should never have nofollow links, or that your SEO efforts are screwed if you have nofollow links? Not at all. Google expects this kind of behavior from webmasters and SEOers, so they consider having nofollow links as part of your inbound backlink profile as normal. So relax, its OK.
The nofollow command tells the search engine crawlers to keep all of the Google love and link juice on the page that has the nofollow link. They know this, and act accordingly for indexing and ranking purposes.
By the way, human web readers never see these commands. They're in the source code. Humans can still click on these links and go the new site or page. That's OK; you want targeted traffic to come to your site. Once they land on your pages, your job is to keep them there with very useful content to persuade them to take the action you want for conversion purposes
What's The Difference Between DoFollow and NoFollow Links?
Good question! To put it simply, DoFollow links offer true SEO value and "link juice" since they're recognized by Google as "votes" of credibility (and since they're obtained the most naturally). NoFollow links are said to offer no SEO value since the rel="nofollow" attribute value/tag assigned to these links instructs Google to not "follow" the link in their ranking algorithm.
Google introduced the rel="nofollow" tag back in 2005 to fight against spammy blog comments that were attempting to trick their ranking algorithm by building large amounts of links for specific keyword-rich link text. This in turn helped these spammers' websites rank at the top of the search results for these keyword phrases due to the artificial link volume/referring votes they had built.
The No-Follow Links Argument
On the flip side of the coin, some people believe that no follow links actually do provide some form of link benefit. Over and above this, they can provide great referral traffic from people clicking through your links. An excellent example of useful no follow links are blog comment links. The vast majority of blogs are no follow these days, which was put in place to discourage comment spam. Howevever, a well-place blog comment on a popular blog can deliver hundreds of visitors in a very short space of time.
Wikipedia is another great example of the usefulness of no follow links. Way back in the day, Wikipedia links were actually do-follow. But then link spammers caught on to the fact that this was a huge authority site that anyone could edit add their own links to. No-follow links were introduced on Wikipedia to directly combat this. However, a link from Wikipedia even today still makes your site look more credible, and more to the point, you can get lots of referral traffic from it. One of my websites recently got a link from Wikipedia (it was credited as a source) on a fairly obscure article, but that single little link still sends around 100 visitors a month. Not bad, if I do say so myself.
The Value of NoFollow Links Beyond SEO
Additional Website Traffic
With any link that you obtain from a referring website, NoFollow or not, these act as a gateway into your site that introduce your content to a larger audience that you wouldn't have had before. So before you discount a well-positioned NoFollow link on another site that's getting a ton of consistent traffic, think of what that link could do for your site traffic and your content reach.
Leads
It's only logical that if you're attracting additional site traffic that you're increasing your chance of converting more leads as well, right? Well, assuming you have the proper conversion opportunities in place like various forms of advanced content that require a form conversion in exchange for the download. If you know certain NoFollow links are providing consistent referral traffic you're focus should be turning these pages into high-conversion pages (similar to a landing page), by experimenting with different calls-to-action offers and placement.
Related post : How many backlinks created a day to get to top Google ranking
_______________________________________________________________________________
For more details about our seo service packages, pls contact us
BIGBIGSEO Team
Email: bigbigseo@gmail.com
Skype: bigbigseo
https://www.facebook.com/bigbigseo
Thank you!