Officially launched in 2014, dramatically altering local SEO with how Google returned local results for localised search queries.
What is the Google Pigeon update?
Once again, Google Pigeon shook up the SEO world as a core algorithm update that focused on how Google delivered local SEO results to users. Overall, it increased the rankings of local listings in search – returning highly relevant, localised results to users depending on where they were searching from.
How Google Pigeon affected websites
Local SEO has always been an important part of our SEO process, and with the Pidgeon update, our client's experienced a healthy rise in localised keyword rankings as well as a general increase in organic traffic.
Localised keywords are usually much easier to rank websites. Although search volume is typically lower for local keywords, we've found that users have more intent and therefore are more likely to convert into customers.
Locality matters in the digital, globalised world we live in, and although the update has received mixed reviews since it launched, Google's Pigeon update was a significant step forward for our client's SEO campaigns.
How you can get the most out of Google's Pigeon update
Claim and optimise your local business listing in Google Maps, Google Places for Business and Google Plus.
Create optimised landing pages on your website that reflect where your business is located and how it helps customers in those locations.
Keep your location data accurate and accessible for Google to index.
Invest time and energy into local SEO strategies like getting reviews on Yelp and other business directories.
Make your website relevant to the audience you are targeted, based on where they live and how your services help them.
Use Google Analytics to find out where most of your best customers are located and optimise your website and language for those areas.
Targets of Pigeon
Perilous on page optimization
Poor off-page optimization
Pigeon's workflow
Pigeon works to rank local results based on the user's location. The update developed some ties between the traditional core algorithm and the local algorithm.
How to adapt
Put in hard efforts when it comes to off-page and on page-SEO. It is best to start off with some on-page SEO and later you can adopt the best off-page SEO techniques to rank top in Google SERPs.
One of the best ways to get yourself listed off-page is in the local listings.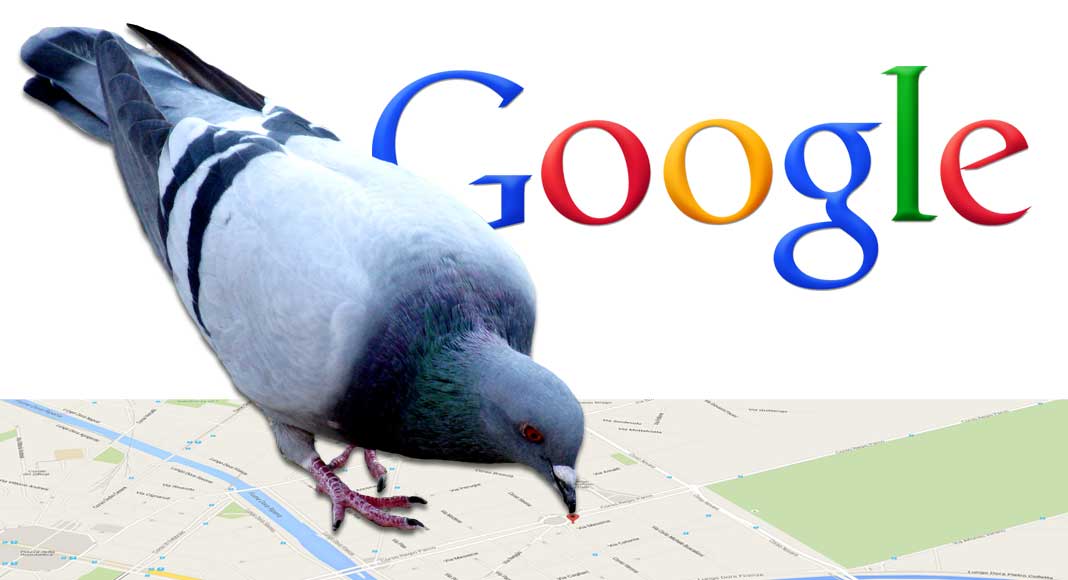 Some advice for website owners
With the release of Google's new algorithm update, one question that might pop up in your mind is "How can I benefit from this update?" So here are some effective tips for your local business to get better Google exposure.
Keep in mind the goal of this Google Pigeon algorithm update is to tie local results more closely to standard web ranking signals. Therefore, those sites that have solid and strong SEO signals are going to succeed in the war of high ranking.
If your local rankings have suddenly dropped, you should run a thorough competition research to see how your website's content, back-links and other SEO characteristics stand to those of other high ranking websites.
You should build a solid business presence on leading local directories in your industry. For that, you have to find the most influential local directories in your niche and make sure that your business is listed in each of these directories.
You should make sure your business name, phone number and address are also consistent in all the local directories where your business is listed.
Maintaining active Google Places and Google+ presence is always recommended.
You should make proper category for your Google+ Local page. For example- if you wish to appear in the local search engine result page for a search like "Web Designers in Denver", your business must be categorized as a web designer.
The number of positive reviews on Google+ Local page and on third-party sources has a proven influence on local search rankings.
Since carousel results put a heavy emphasis on ranking, you should make sure to put a high-quality and attractive images in your Google+ business profile.
Make sure that your website is current, attracts attention, hosts relevant information and promotes your business in a positive manner.
You should include city or state into your website's title tags.
Having the name of a core goods or services in your business name may give you some advantage over other competitors who lack this.
The so called Google's pigeon update has made organic SEO a more influential component of local search. This update is revolutionizing the way listings are displayed in search results; therefore, you should take necessary steps to ensure your business benefits from this new algorithm.
Read more  How does Pigeon Algorithm Upadate impact on SEO?
_______________________________________________________________________________
For more details about our seo service packages, pls contact us
BIGBIGSEO Team
Email: bigbigseo@gmail.com
Skype: bigbigseo
https://www.facebook.com/bigbigseo
Thank you!