The algorithm change will alter the search landscape. Websites that are not mobile-friendly will sustain a negative impact on search visibility whereas websites optimized for being mobile-friendly will be more prominent in search results. Additionally, websites optimized for mobile use will gain a significant "boost" as well.
The algorithm change is expected to make a big impact on all languages, worldwide.
However, it is still quite unclear if the algorithm change will affect desktop search results. The change can happen instantly or scheduled for a later date.
It is imperative to switch your current website layout to be a mobile responsive website, using CSS3 (the latest standard of Cascading Syle Sheets). Responsive web design is explicitly designed for mobile and tablet users, rearranging, hiding or displaying information across a plethora of devices. Additionally, CSS3 is expected to show all data equally across devices, including desktops.
As for its impact, Google's new mobile friendly algorithm will only impact searches on mobile devices, giving a boost to mobile friendly pages and driving non mobile friendly pages down. The Mobile Friendly Algorithm will only impact mobile rankings; there will not be an effect on desktop and tablet rankings.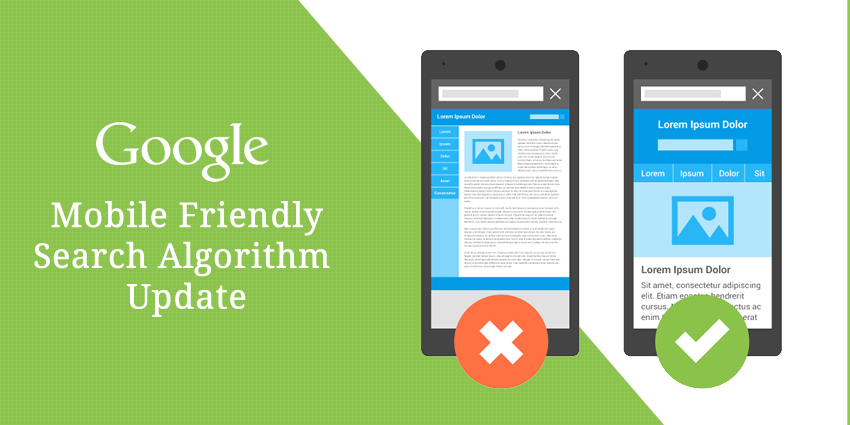 Webmasters boasting mobile-friendly sites are anxious to see what type of impact the update the update will bring, which is being described as an additional ranking boost for mobile-friendly sites. When asked in their Google+ hangout Q&A if traffic would improve with the update, Google replied "It's possible that you'll see an increase in traffic on mobile. It depends on what other sites on the web are doing and what users are searching for. If users are searching on mobile and other results for that query aren't mobile-friendly, maybe you'll see more visits as a result of having better rankings than non-mobile-friendly sites."
Google reports this update will only affect:
Search rankings on mobile devices
Search results in all languages globally
Individual pages – not entire websites
The new algorithm is a page-by-page signal, which explains why the update was slowly rolled out. Depending on how quickly Google crawls and indexes your pages, you may have already seen tangible results of this update as of last week. If your website is already mobile-friendly, fret not – Google has already stated mobile-friendly websites will not be negatively impacted by this update.
What has been the impact of the algorithm update?
It's fair to say that the impact of the mobile update has been underwhelming for many.. Google had stated that the update would affect more queries than Panda and Penguin, and although no official numbers have been disclosed, far more volatility in the search results has been observed on previous algorithm updates.
The initial consensus from the WebmasterWorld thread since the April 2015 update seems to back this up, with typical comments including:
'No change on one of the sites I monitor, though we've already been mobile-friendly for some time, and mobile has completely surpassed desktop+tablet organic traffic combined within the last year.'

'[UK] If it's rolled out – then it looks like a very small ranking factor indeed. 

I have […] sites that are mobile friendly and sites that aren't – and I can't detect any traffic changes whatsoever on a Google + Mobile segment.'

'The joke is nothing has changed.

 My sites have seen zero change. I have responsive sites and old school html sites using tables and ZERO change for any of them.

Was expecting a boost for the responsive sites and getting dinged for non-mobile friendly sites.

After one week nothing has happened.'
Who were the winners and losers?
Surveys of a defined set of keyword rankings across websites are useful for seeing the overall impact and Searchmetrics' 'winners and losers' report offers a useful review of the impact of these changes across a diverse keyword set: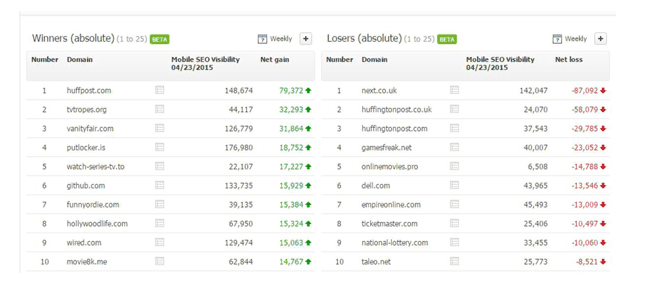 Looking at the losers in more detail show some large declines in visibility, but remember that these aren't visits, they are falls in an index of the rank of selected keywords. Searchmetrics advises…
It's important is to take the "Ratio Mobile vs Desktop" into account. It shows the difference between the performance in Desktop rankings and Mobile rankings. The lower the ratio, the worse is this domain ranking in Mobile compared to Desktop. These domains are the losers of the Mobilegeddon update.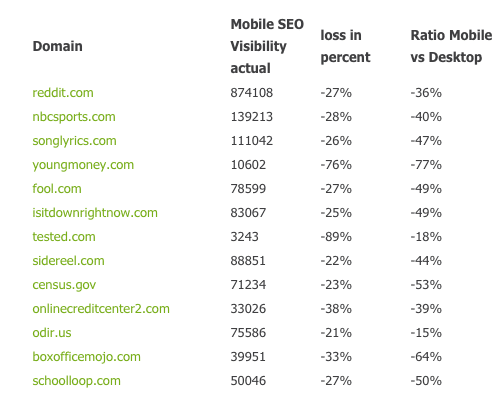 Analysis of the first week listed Next.co.uk as the website as the biggest loss in UK. Analysing it reveals how big an impact the update may have had on SEO performance, with Next.co.uk losing visibility on key generic keywords including:

Pages that were not mobile-friendly dropped on average five positions, which is enough of a decrease to significantly impact CTR and therefore share-of-voice.
Other losers included sites such as non-mobile-friendly Songlyrics: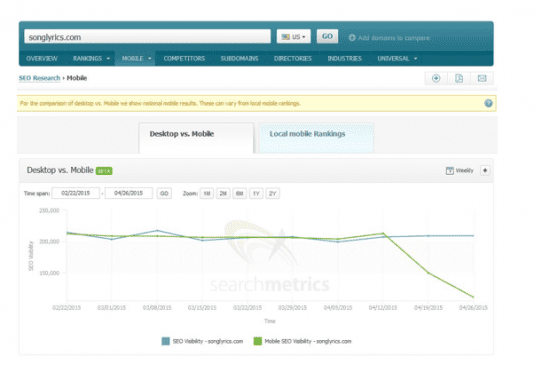 Although there were some positive results, including GQ: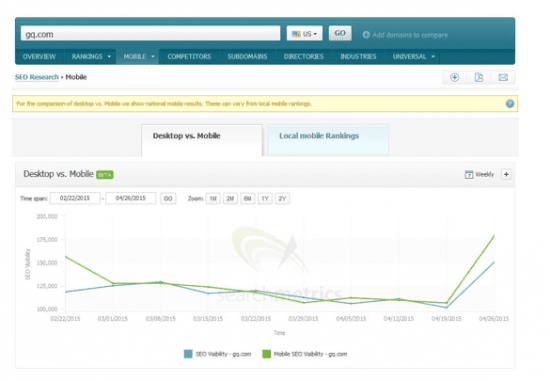 Read more  What should you do when Google Mobile Friendly updates
_______________________________________________________________________________
For more details about our seo service packages, pls contact us
BIGBIGSEO Team
Email: bigbigseo@gmail.com
Skype: bigbigseo
https://www.facebook.com/bigbigseo
Thank you!