Whether you're launching a new site or improving an existing one, you'll do well to consider these five SEO tactics.
Optimize your Website (On page SEO)
Add keywords to your titles
Keywords are the link between what customers are looking for and your content, so it is crucial that you pick your keywords carefully and make sure they provide value to the customers.
Setting the right keywords will rank your page higher on the search engines, and thus you'll end up driving traffic to your site with minimum effort. It is then necessary that you invest some time conducting research to determine the keywords you want your customers to find you by.
Quick Tip: In case your displaying PLAs you could still benefit from few tricks even though Google Shopping does not work on a keyword basis. If you are optimising your product data feed, you can influence which keyword Google finds more relevant. To determine which keywords to use, we recommend you use AdWords Keyword Planner.
Keep a good website architecture
Having a well-structured website is undoubtedly a remarkable fact, even more, important than graphic design that most companies favour. A good architecture provides an easy to navigate the site, a user-friendly environment and helps to organise pages for better visibility and ranking.
It also helps Google better understand your website mainly if it consists of many pages, not to mention that it will facilitate adding content and updating your site with zero sweat.
Quick Tip: Opt for a flat architecture when organising your pages as it makes your site easy to navigate and enhances the user experience.
Use your internal links
Internal links are the pages you can link to your site which share similar or related content; these links can be used on your site to boost other pages. Many ignore the importance of internal linking, but Google relies on them to first get an idea about your site's structure and second to determine the relationship and value of your content. So using internal linking wisely will help you establish hierarchy and achieve a high ranking.
When it comes to defining the relationships between content, Google uses internal links to crawl websites and find out if your content is related to other pages. Also, it will segment the value of the links between websites, so the page that has more backlinks gets the most value and so on.
Quick Tip: Indeed more links means more value but there's a thin line between making the most out of backlinks and becoming spammy, SERPs are smart enough to make the difference and if you overdo it can backfire, so only use links when it makes sense.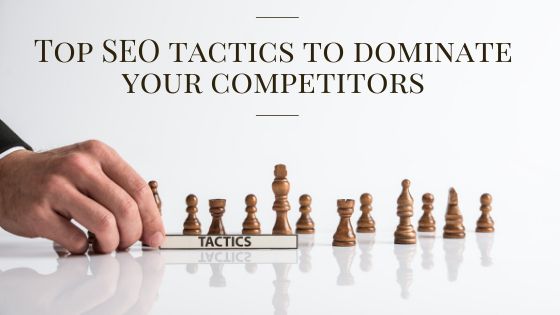 Create content that brings value 
To get the most out of your keywords, you need to contextualize them properly. And, this is where content marketing steps in. It engages your visitors, evokes their emotions, educates them, and builds relationships with them. Most importantly, it helps your startup become an authoritative online resource. These are all elements that will boost your brand image, build trust with your target customers, and persuade them to buy from you.
Here are a few characteristics of a good content marketing strategy:
● Quality over quantity
When creating content, you become a teacher. A mentor. A friend. You help readers fix their problems faster and make the right decisions, no matter what industry you're entering. That's why your content needs to be original, fresh, insightful, and actionable. These are the ingredients of a quality piece of content.
● Keyword optimization
Keyword optimization is not about jamming your phrases into the article. This may only get you penalized. Keywords are here to guide your writing, to provide you with a specific context. They're more about semantics, the meaning. So, pace your keyword strategically into the text a few times and make sure they always make sense.
● Diversify your content
Creating just one type of content is fine. However, to cater to wider audiences and keep them engaged, you should experiment with the content forms. For example, not everyone likes reading a lengthy article. To speak to such users, create videos that are easier to follow. Infographics are an amazing option to appeal to visual learners, while quizzes may provide targeted user experiences.
Keep updated landing page content
Who doesn't like fresh content? We know Google does! Being constantly active and frequently posting blogs guarantees your website more visibility and puts you on SERPs's radar.
Blogging is a great tactic to boost your site's SEO; it helps position your website as relevant as possible to customers' queries which gives you more chances to rank higher on SERPs and thus drive traffic to your page.
Quick tip: Make sure your content is relevant to what customers are searching for, this will increase the chances of your link being clicked, and if visitors end up spending a long time on your page this will confirm to SERPs that your content is useful.
Write for the Funnel
If you are only writing for the top of the funnel, how are you going to reach the people who are ready to buy? It's a simple question but one that can easily be overlooked. How do I know? Because I've been guilty of this.
I've told this story at conferences a few times and I'm sure I'll tell it again but a few years ago I was working on a client program and realized that while we were crushing it with our top of the funnel and mid-funnel strategy, we had almost nothing for the end of the funnel or existing customers. What a miss!
What resulted was a re-thinking of our keyword strategy, content strategy, and the overall site experience. We had to figure out where our gaps were, evaluate competitors, and of course evaluate the search results.
The program shift immediately resulted in more leads, more sales, and a happier client.
Work on your link building
Building strong links is similar to building strong roads that will connect between pages, in other words, link building is the act of making other websites link back to your site. This task could be challenging but also extremely necessary to improve your SEO.
Quick Tips: There are various link building strategies to have your website link back to other pages, and the following tips are a handful we selected for you:
Get external pages to link back to yours by creating high-quality content that would trigger their interest and make them reference back into it.
Use the power of social media to spread the word about your content.
Try to gather reviews and mentions from leaders and experts of the industry, people with a strong influence online.
Ask your existing customers, partners, and people you work with to link back to your site if the content is relevant.
Related content Effective SEO strategies should be used to overtake competitors
_______________________________________________________________________________
For more details about our seo service packages, pls contact us
BIGBIGSEO Team
Email: bigbigseo@gmail.com
Skype: bigbigseo
https://www.facebook.com/bigbigseo
Thank you!