Internal linking is a vital part of a good SEO strategy. They are important because they provide useful content for your readers, help to guide search engine crawlers in the right direction, directly impact your link equity, and impact the overall usability of your website.
Of course, the biggest thing to remember when you are creating your internal links is to avoid over-optimizing the anchor text. It might seem tempting to use a specific key phrase each time you create links, but the fact is that could be considered trying to manipulate the system and might cause penalties for your website. Instead, focus on using natural-sounding phrasing that may double as a keyword.
By creating strong internet links, you are not only helping your search engine optimization efforts but building more credibility with your readers as well. When someone visits your website and clicks on working, informational links, it shows that take pride in your business. That pride makes them more likely to buy your products or services and to pass along information about your company to their peers.
Start placing internal links your most valuable, relevant pages first. For many e-commerce owners, these are the homepage and key product pages. If you have a blog, your most important pages may be the homepage and a few of your most popular posts.
Link pages that contain relevant related content. Whenever Google crawls a page, it divides link value (PageRank) between every link found on the page and assigns a score judging the importance and authority. To drive more traffic to a certain page, link to it from a higher-ranking page on your site. Your homepage usually has the greatest link value – thus, linking to other important pages from the homepage will allow them to piggyback on the homepage's link value.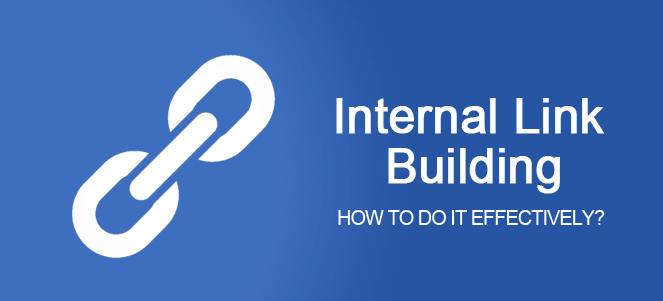 Here are some best practices for linking to your own site in a blog post:
1. Link to your own site using natural text.
A lot of website owners are tempted to use highly-optimized link anchors. For example, they might link to a product page using anchor text like "best price on a new AEM cold air intake" in the hope that this will boost the search engine ranking for this specific term. While there may be a benefit here in certain limited circumstances, this is generally a bad idea. It's usually better to use words like "here" or "this post" or even just a single keyword as link anchor text. This is a more natural way to link, and Google/Bing tend to lend this type of link more weight.
2. Use full URLs in all your links,
i.e. http://www.yourdomainname.com/article/ rather than just /article/. A full URL is called an absolute link, and absolute links are better in terms of compensating for content theft.
3. Don't overdo it with the links.
Some posts will have a lot of internal links because of the topic(s) they cover, and some will have just one or two internal links. The key is to place links for the user, rather than for the search engines. Whatever you do, don't link every other word in your blog post. That's not going to help your site, and may, in fact, hurt it.
4. Link deep whenever you can.
Without stuffing your content with links, it's a great idea to link to pages that would be considered "deep" inside your site. A page is considered deep when it's more than 3-4 links from the homepage. On an auto parts ecommerce site, this tends to be a product page, a sub-sub category page, or an older blog post.
5. External links are OK too.
Finally, internal links should never come at the expense of a good external link. If you've got a good page on your site that you want to link to, and you can also link to a good external page, go for both. There's no reason not to link out to other websites, as long as the content is good.
6. Add Internal Links to Dead-End Pages
Add internal links to every page of a website,. This reduces the number of pages with dead ends, which provides search engines with better access to all pages of a website.
We commonly see dead ends at the 'Thank You' page upon completing an ecommerce check out or the '404-Page Not Found' page. Offer website visitors additional content instead of a dead end, such as links to popular pages on a site that are still relevant to their needs.
7. Consider the Links in Your Site's Main Navigation Element
One of the most underutilized internal linking strategies is your navigation, The navigation naming conventions for a website are where the technical SEO strategy comes head-to-head with the user experience strategy.
They don't always agree, but if SEO is a priority, the case should be made for a strong naming of the navigation items on your website. Not only can this help Google understand what topics the pages are about, but this helps your sitelinks show up correctly in a search result.
The sitelinks are the subpage links under your main page listing. Often, you'll find 4-6 links that drive a visitor deeper into your site—to the higher converting pages,
Read more Smart ways to optimize internal links in SEO
_______________________________________________________________________________
For more details about our seo service packages, pls contact us
BIGBIGSEO Team
Email: bigbigseo@gmail.com
Skype: bigbigseo
https://www.facebook.com/bigbigseo
Thank you!